I am currently using Aweber for my email list building. One thing that I was really missing was a simple Aweber integration to WordPress. There are several plugins for sidebar widgets, but only for the sidebar.
I wanted a simple Aweber integration to add horizontal Aweber forms at end of WordPress posts. I could just go ahead and include this into my template file, but dealing with several client sites, I wanted something simpler and something I can share easily. I went ahead and created my own plugin: Simple Aweber Integration!
Simple Aweber Integration – Key Features
Automatically attach Aweber forms to WordPress pages or posts and choose whether at the beginning or end.
Choose a custom styling of your Aweber form: Original vertical Aweber form or a horizontal Aweber form.
Blend out certain Aweber form parts like header or footer.
Shortcode support for simple Aweber form integration into individual posts or pages.
Priority option to easily determine Aweber form display order.
Simple Aweber Integration – Result Showcase
Instead of just having the form available I created with Aweber:
[simpleaweber style="original"]
I now have a very nice horizontal form that I can insert anywhere. It looks like this:
[simpleaweber style="nfooter"]
Both these forms were inserted with my plugin Simple Aweber Integration using short codes. Other styles are:
[simpleaweber style="nheader"]
[simpleaweber style="nhnf"]
Not only that, but I can automatically add it to all WordPress post or pages choosing whether at the beginning or end. I am using Simple Aweber Integration to automatically add a horizontal Aweber form to the end of all posts on schurpf.com.
Simple Aweber Integration – Settings
Here is a screenshot from the Simple Aweber Integration's settings page: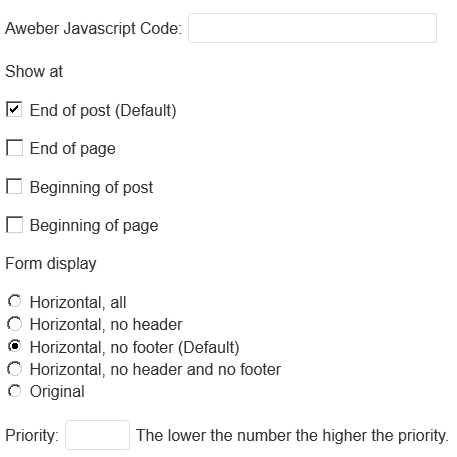 Simple Aweber Integration – Get it for free
You can get the Simple Aweber Integration WordPress plugin for Free. You can download it over on GitHub, on WordPress or simply sign up for my newsletter and get a ready to install zip version.
[simpleaweber style="nfooter"]
Simple Aweber Integration – Help
See the documentation and an installation guide on the Simple Aweber Integration Help page.
The unimprovable day to resolution heartiness problem is before any visible sign appears. Actually there isn't anything you can't purchase on the Internet anymore. Whereas erectile malfunction is more common among older men, that doesn't something you just have to live with. What about "canadian pharmacy cialis 5 mg" and "cialis canadian pharmacy"? In our generation, there are divers options for those ones who suffer from erectile dysfunction. You may have heard about "canadian pharmacy online cialis". More information about the question available at "canadian pharmacy cialis 20mg". Why it happen? Can sexual disorders in men be prevented? If you get any prescription remedies like Viagra, check with a pharmacist that they are sure to take with your other remedies.