PowerHouse Mastermind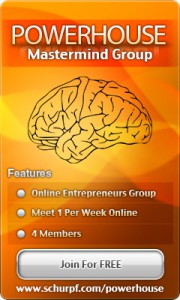 I am super pumped to announce my new opportunity: The PowerHouse Mastermind. The PowerHouse is an exclusive group for Online Entrepreneurs with existing experience in their starting phase. I hope to gather several likeminded and motivated people to push each other in their online business, keep each other accountable and just make this lonely path a bit less lonely.
Here are the cliff notes:
An exclusive group of internet entrepreneurs
A group of 4
Meet once a week online for 1.5h
First meeting Friday Aug 1 530 PM EST
Free
You can find all of the info including the application process over here.
A Mindset to be a successful online entrepreneur
But why all this extra work Michael?
I am glad you asked 🙂 You see I came to a realization: Being an entrepreneur is all about Mindset. It starts there and it ends there. No matter what how smart or gifted you are, if you have the right Mindset you can accomplish anything. I have very high standards for myself, and none of the internet business I started met those standards up to date. This got me thinking a lot: "I am a smart guy, hard worker and can do things others can't, why are my businesses not skyrocketing?"
Do you feel your skills, motivation and passion deserve more success, more admiration? I hear you, welcome to the club.
In a recent email from Scott Britton, he very correctly observes: "The battle is usually 80% psychological, 20% strategy." This really hits the nail on the head. No matter how much you know about a topic, no matter how many resources, if your mindset can not take advantage of your skills, you will never be outstanding.
But why are we so bad with our mindset? Have you ever set yourself a new years resolution only to give up days/weeks later? I certainly have.
The question here is: Why do so many people set goals only to fail immediately after? The answer to this in my opinion is: We were never taught. I posted this to my private Facebook wall and from the looks of it, I am not alone.
I do not know what the correct mindset is for me to be successful, I don't know all the tools out there but what I do know is that the solution to a successful online business is starting and ending with my mindset. Join me on my journey to finding it in the PowerHouse Mastermind.
The perfect season to determination health problem is before any visible sign appears. Actually there isn't anything you can't purchase on the Internet anymore. Whereas erectile dysfunction is more common among older men, that doesn't something you simply have to live with. What about "canadian pharmacy cialis 5 mg" and "cialis canadian pharmacy"? In our generation, there are divers options for those ones who suffer from erectile dysfunction. You may have heard about "canadian pharmacy online cialis". More info about the matter available at "canadian pharmacy cialis 20mg". Why it happen? Can sexual disorders in men be prevented? If you get any prescription remedies like Viagra, check with a dispenser that they are sure to take with your other remedies.